Ester Nicholson - author, speaker & musical artist
Ester Nicholson, a celebrated vocalist formerly with Bette Midler and Rod Stewart, is an author, teacher, recording artist and former addict who invented the Soul Recovery process to cure herself from a life-threatening addiction. Now with more than 25 years of sobriety, she has noted recordings to her name, in addition to penning the breakthrough Hay House release Soul Recovery. She travels and performs extensively, sharing her huge spirit and talent while teaching the spiritual principles and practices that have guided thousands to their highest potential in personal and professional fulfillment. Ester was recently featured on the Oprah Winfrey Network.
---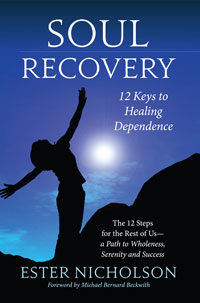 Ester Nicholson's "Soul Recovery" Book
The history of the Anonymous 12-Step recovery program has been one of inspiring examples of success, combined with a very high rate of failure and recidivism. To be fair, the program was created for a very different time and a very different sensibility.
As we expand the application of the 12-Steps beyond substance abuse, we must remember that its original and core design was as a spiritual process. In these times, with cross-cultural beliefs and ideas, the challenge and opportunity is finding best practices in word and concept for the world we live in today.
Soul Recovery takes the essence of the 12-Steps and incorporates widely-accepted spiritual practices within a deeply compassionate curriculum.
---
---
Ester Nicholson's "Child Above the Sun"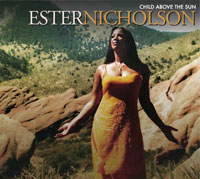 Spanning from Gospel to jazz-influenced R&B, Ester Nicholson's Child Above the Sun (produced by Visionsound) traces an extraordinary journey - from destitution and addiction to prosperity and self-realization. This collection of songs, from writers as diverse as "Agape's" Rickie Byars-Beckwith to "Color Purple's" Brenda Russell, is a beautifully produced, sophisticated CD that overflows with personal authenticity and heart. This extraordinary journey is a demonstration that no person is beyond redemption and that life-changing renewal is possible for everyone - regardless of personal history or current circumstance.
"Ester Nicholson has all the essential qualities of greatness. A unique tone, wonderful phrasing, emotional flexibility and passion. In a nutshell the girl's got soul." - Rod Stewart
Song Excerpts:
Make Me Stronger

Never Be the Same

One Heart

Everything Must Change

Child Above the Sun

How Great You Are

Sending Up My Timber

Forever Young

What Would Love Do Now

Your Face