Hello and welcome,
My name is Ben Dowling and I'm the President of Visionsound, Inc.
My background and reputation is mostly in the musical arena, since I've been a jazz piano player for most of my life.
But I've also had another life in the world of high technology. Over the years, I've worked with musical instrument companies who were designing hardware synthesizers, software synthesizers and other so-called "embedded software systems." I've had the wonderful fortune to have directly participated some of the most exciting and influential developments in sound synthesis history.
The Korg M1, Korg Wavestation, Korg Oasys and Yamaha Clavinova projects were history-making developments that have the widest reputation. You may have heard of some of them.
I've worked on software development teams and watched the growing of products from the earliest stages of theory, into the final steps of bringing those products to market. I've had to break the books open to re-study mathematics and learn software design skills I thought I'd never find an outlet for.
I have found this process to be exhilarating, because - for some strange reason - I love to learn new things and to generate new skills.
I established Visionsound in 1996 as a vehicle for my technical skills, mostly because people were confused by a jazz piano player having the technical "chops" that I have. It made it easier to market my abilities as a synthesist, software design engineer, and producer without confusing the people I was marketing to.
And I've had quite a ride, creating custom synthesis with artists as varied as Joe Zawinul (Miles Davis, Weather Report) to Madonna and Michael Jackson.
But through all this work, the one theme that emerges is that I've always used technology for a larger purpose. I didn't "do technology" in order to "do technology." It was to serve the music, or the mission, or the organization. My mantra has always been, "how does this apply to doing important work?"
Technology is a miracle, but it certainly is not an end in itself.
---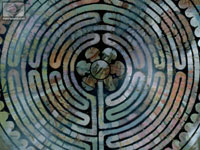 Creative synthesis...
As a sound synthesist, my skill set was taking very limited technology and finding a way to get art out of it. Whether it was crude software or dodgy hardware - as a friend in the computer industry once said - "you guys teach semiconductors to sing."
And that's what I've been up to since the late 1980's when I started that journey - finding ways to make highly limited technology work for a larger purpose.
I never would have believed just how valuable that skill has become - from DVD authoring, to CMS programming to Mobile App development today. But what really gets me going is applying that skill to something meaningful.
To something extraordinary.
In working with engineers and software development teams, I've had the experience of being valued because I brought a real-world, grounded point of view to the process.
The first web site I developed (in 1993) was for the purpose of communicating to my students at UCLA Extension - about music. I wanted a way to post the graphics and lesson materials online, so that any student who missed class wouldn't be left behind.
Get the picture?
Over the years, I've learned that technology can be integrated into a business or artistic structure in such a way as to expand the functionality of that organization - creating added value that is consistent with the mission of the company or group.
At a moment when so many are confused by the exploding set of technical choices, this old skill set of mine seems more valuable than ever before.
All the best,
Ben Dowling
---
---
Over the past 14 years, Visionsound has worked with hundreds of organizations and businesses.
These have included:
Agape Media International
The United Nations
Korg Synthesizers
Yamaha Musical Intruments
Aureal Semiconductor
Sony BMG
Universal Music
Paramount Pictures
ABC Television
The Africa Channel
Oxygen Network
Columbia Records
GRP Records
JVC Records