Press Contact Information
For more information, please contact Crossover Media: Max Horowitz -  212.465.2444 • This email address is being protected from spambots. You need JavaScript enabled to view it.
---
Project Description
Human is a unique collection of improvised cello and piano music featuring Berlin Philharmonic principal cellist Georg Faust and jazz pianist Ben Dowling. Meeting by chance on a flight to Oslo, Norway, the two world-class musicians discovered their mystical musical connection, which culminated in recording sessions in California.
Captured at Dowling's home, the resulting recordings are stunning in their natural feel and inspiring beauty. Nearly all were generated—free from any preconditions or planning. The feeling-tone of each connected moment is palpable and compelling.
Human is a magnificent celebration of heart within an ocean of compassionate and generous musicianship. It is healing music of profound sensitivity and gentle touch.
Press Release
Click Below to Download the Press Release: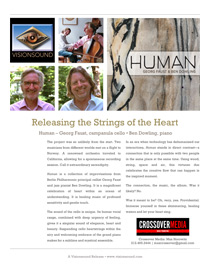 Album Art
Click Below to Download the Album Cover: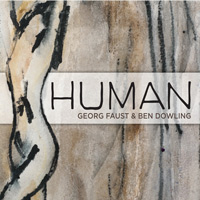 Biographies
Georg Faust Biography:
The principal cellist of the Berlin Philharmonic Orchestra for 25 years, Georg Faust has been awarded top prizes at the world-renowned Tchaikovsky Competition, Naumburg International Cello Competition and the Munich Radio Competition. For more than 20 years, Faust was the musical director of the prestigious "12 Cellists of Berlin Philharmonic," which received two Grammy nominations and numerous other prizes including the "Echo Klassic Awards" in 2001, 2003 and 2005. As a founding member of the Berliner-Barock Solisten" and the "Schonberg Trio," Faust performs a wide range of repertoire on the most celebrated stages of the classical music world.
Ben Dowling Biography:
With early classical training in piano and pipe organ, Ben Dowling transitioned into blues and jazz piano in his early teens. Influences included Miles Davis, Keith Jarrett and Herbie Hancock. Dowling is a proponent of using classical pianistic and compositional technique within an improvisational frame—ranging from intervalic forms of serial harmony to jazz-style crossover uses of modes and diatonicism. An early adopter of electronic synthesizers, Dowling went on to co-create some of the most important developments in sound synthesis history, including the Korg M1, Wavestation, OAsys and Yamaha Clavinova instruments. As a synthesist and keyboardist he worked on projects with artists ranging from Joe Zawinul of Weather Report to Michael Jackson. Dowling also tours worldwide with guitarist Al McKay, formerly of Earth, Wind & Fire.